Download Your Free Report: Sports Injury Guide (Diagnosis and Management)
Don't let anything hold you back from living the lifestyle you desire. That's why we've created a solution specifically tailored to your needs.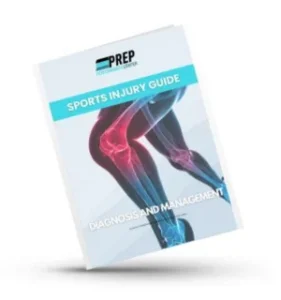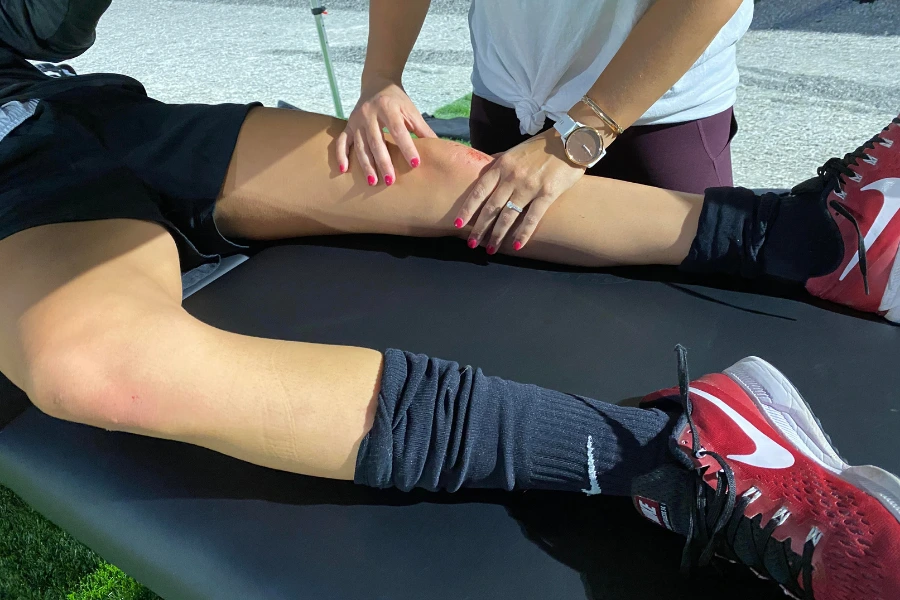 Sports Injuries – You don't have to be a pro to be an athlete. If you run, you're a runner. If you swim, you're a swimmer. Whether you train to compete or simply train to be strong, there is nothing more devastating than an injury. Fortunately, our physical therapy team understands your unique needs and can help you recover from your sports injury as soon as possible. Contact Prep Performance Center in Lincoln Square, Irving Park, Lakeview, Horner Park, Roscoe Village & Ravenswood Chicago, IL to find out how.
What is a sports injury?
A "Sports injury" is an all-encompassing term for an injury that happens during an athletic activity. You don't have to be a professional or even a competitive athlete to develop a sports injury. Lifting heavy weights, running in ill-fitting shoes for too long, swinging a racket or golf club for years on end, or rolling your ankle on a soccer field can all lead to injury. The key to proper recovery is receiving appropriate treatment as soon as possible. The type and duration of your treatment will vary with how severe the injury is, your current health, and whether surgical intervention is required.
Types of sports injuries
While the type, location, severity, and cause of sports injuries are as varied as the sports themselves, the seven most common injuries which also cited by Healthline are: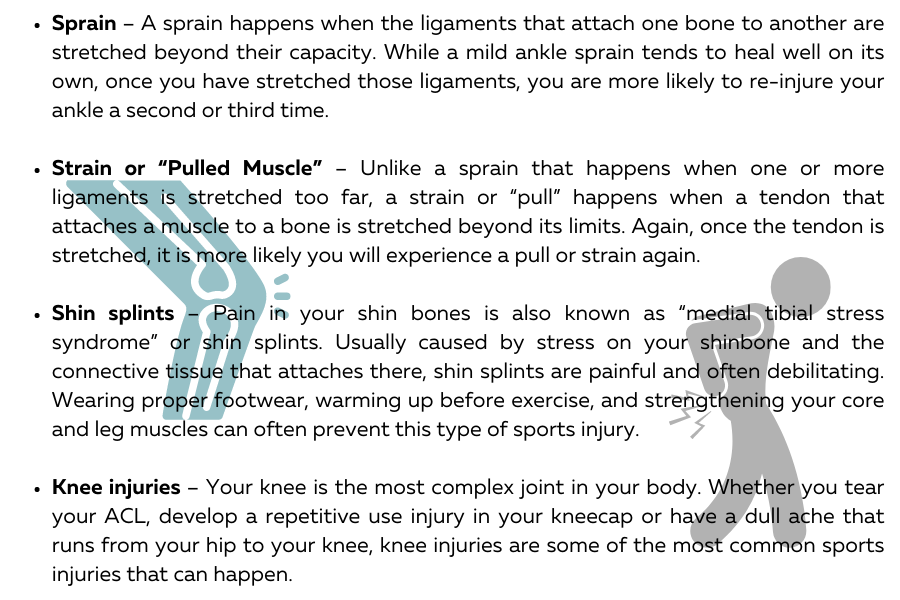 How physical therapy helps recovery after a sports injury
Think of a physical therapist as a movement specialist. These highly trained medical professionals can look at how you are moving your body and prescribe manual therapy, strengthening exercises, and stretches to help recover after or even prevent a sports injury. First, our physical therapist will take a detailed medical history including any prior surgeries, your current activity level, and any conditions that may have contributed to your injury. Next, they will do a thorough examination that may include X-rays, an MRI, or an ultrasound. Once our physical therapist has developed a treatment plan that is right for your injury, your physical fitness, your lifestyle, and your ability level, you will begin physical therapy.
Your treatment plan may include manual therapy to reduce scar tissue and increase range of motion, strengthening exercises to enhance not only the area that was injured but also the areas around your injury, stretches to improve mobility and balance, and pain management techniques. While physical therapy often begins and ends at PREP Performance Center in Chicago, IL, you will be given exercises, stretches, and exercises to do at home to enhance your recovery. Curious about whether or not physical therapy is right for your sports injury? Contact Prep Performance Center in Lincoln Square, Irving Park, Lakeview, Horner Park, Roscoe Village & Ravenswood Chicago, IL, today to speak with our Chicago physical therapists and start on the road to recovery as soon as possible.
Are you in Pain? We Can Help!
Need Some Tips To Get Relief Right Now?
Don't let anything hold you back from living the lifestyle you desire. That's why we've created a solution specifically tailored to your needs. Claim one of our free special tips reports to get started today…