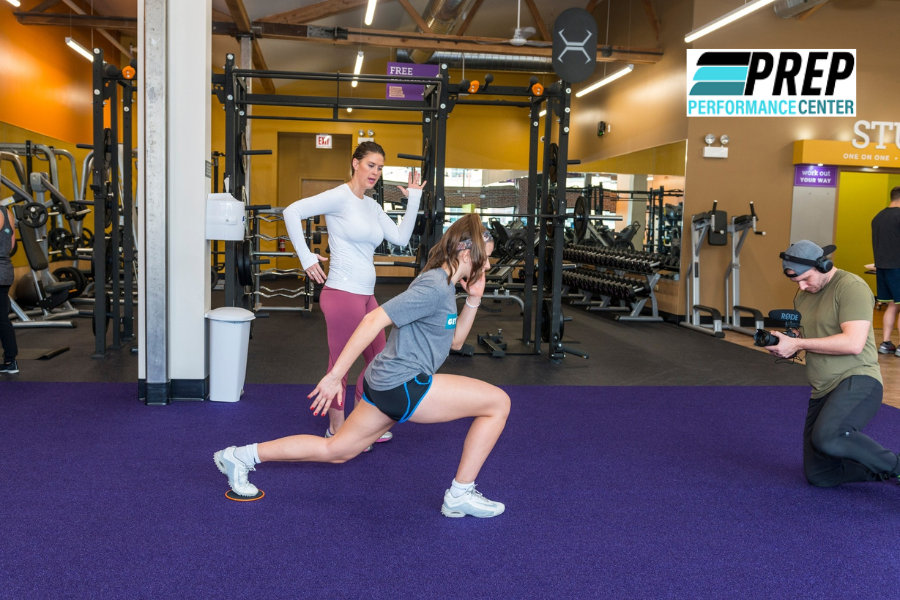 On Field Progression – Why do we document everything else in our rehab but the most important stuff. We record reps, sets, and time for our athletes when they are running, jumping or completing strength exercises, but we have failed our patients by not properly PRESCRIBING return to sport controlled to uncontrolled play.
We are trusting our "gut" on frequency, intensity and duration and therefore are missing a proper evidence based progression when it comes to the on field sport specific activities and game play. We are allowing athletes to compete in drills based on their psychological readiness and often forget to properly DOSE return to play as an exercise prescription. This is often missed because more often than not because unless an athlete is rehabbing in college or as a pro, patients are not monitored by a PT, ATC or strength coach during their practices. As rehab professionals, we are failing our patients by not giving our patients clear guidelines and specific drills and activities they can participate in during practice. All too often we are keeping our athletes out until the 9 month mark, and then let them go from 0-100 without introducing them to contact and game-like play in a controlled setting.
We treat this phase of rehab as a question mark. We ask our players… Do you think you can go 100%? Do you feel ready to play with a defender making contact? Do you need to come out? Or Do you think you can play for 30 min?.
After doing A LOT of research and realizing there is a lack of research in the Return to Sport Strength and Conditioning and Return to Contact Play area, I began creating my own advanced Return to Sport and Return to Contact protocols. As an elite lacrosse player, the Return to Run programs out there didn't have the appropriate intensity and there nothing out there regarding contact play but one article by Matt Tabenar in the UK, I have modified his Controlled Chaos Continuum and made it my own. I have developed a more clinical, specific, reproducible, and actionable model in which medical professionals can communicate to each other via the athlete and evidence based programming. I am starting to call this Phase 6 of ACL rehab, as it currently is the "why not, let's give it a try phase". With little evidence or knowledge to support the decision making, the fatigue factor that often lands our athletes on the sidelines not too soon after returning to sport with compensation injuries or the ever so dreadful re-injury.
It's not if an athlete is going to get reinjured, it's when. This sounds very pessimistic, however its the truth. The stats are stacked against us and we as medical professionals need to do more about it. We need to start solving the problems we see everyday in our offices and we need to start making a change.
If we can take a more controlled and evidence based approach to On field Progressions, our athletes will be safer in returning to sport and will have had the exposure and reps they need to feel confident, prepared and conditioned to participate in a full contact game without time restrictions.
On Field Progression of the Controlled → Uncontrolled Chaos Continuum
Return to Participation
Progressing reps, sets, and enforcing time limits

Non-contact Drills→ Controlled Non-Contact Play → Controlled Contact Drills→ Controlled Contact Play → Uncontrolled Contact Drills (progressing reps, sets, time limits)→ Uncontrolled Contact Play

Non-Contact Drill- Lacrosse Shooting on goal 50% of speed, focus on change in direction landing and loading, 20 reps, 2-3 times per practice
Return to Sport
Progressing reps, sets, and enforcing time limits

Controlled Contact Drills- 1v1 – Attacker goes 100% but defender goes 50% limiting contact and aware of injury- 10 min

Controlled Contact Play- 7v7 – Attacker goes 100% but defender goes 50% limiting contact and aware of injury- 10 min
Return to Performance
Progressing reps, sets, and enforcing time limits

Uncontrolled Contact Drills- Lacrosse 1v1 attacking player goes 100%, no limits on defender, 10 reps

Uncontrolled Contact Play but

Controlled Fatigue Factor

Uncontrolled Contact Play- 100% attacker and defender in game play ½ field, subbing in and out every 5 mins for a total of 30 min per game

Uncontrolled Contact Play- 100% attacker and defender in game play ½ field, subbing in and out every 10 mins for a total of 40 min per game

Uncontrolled Contact Play- 100% attacker and defender in game play full field, subbing in and out every 10 mins for a total of 40 min game

Uncontrolled Contact Play- 100% attacker and defender in game play full field, subbing in and out every 20 mins for a total of 50 min game
No time Restrictions

Uncontrolled Contact Play- 100% attacker and defender in game play full field

Player Initiated (controlled) and Play reactive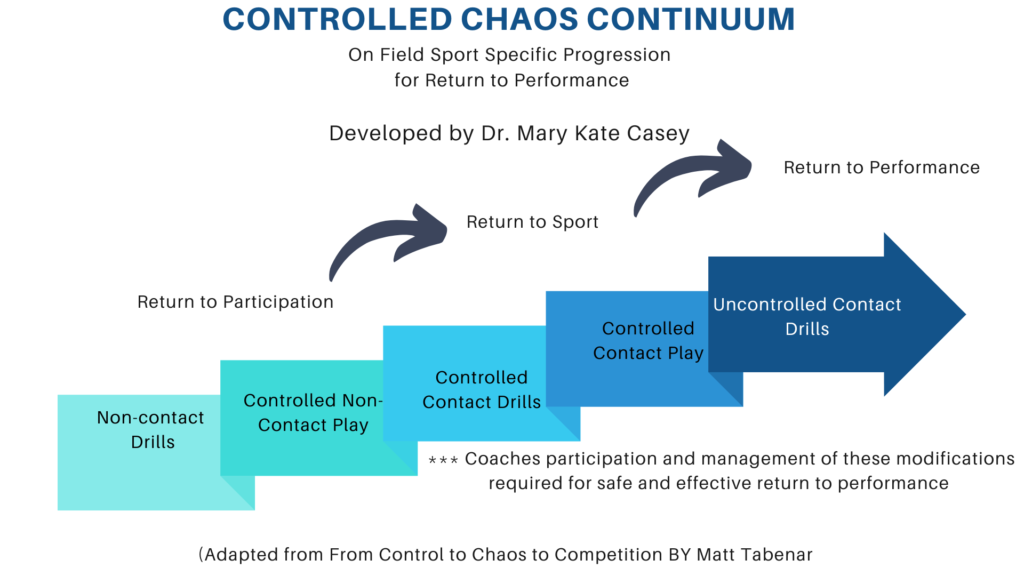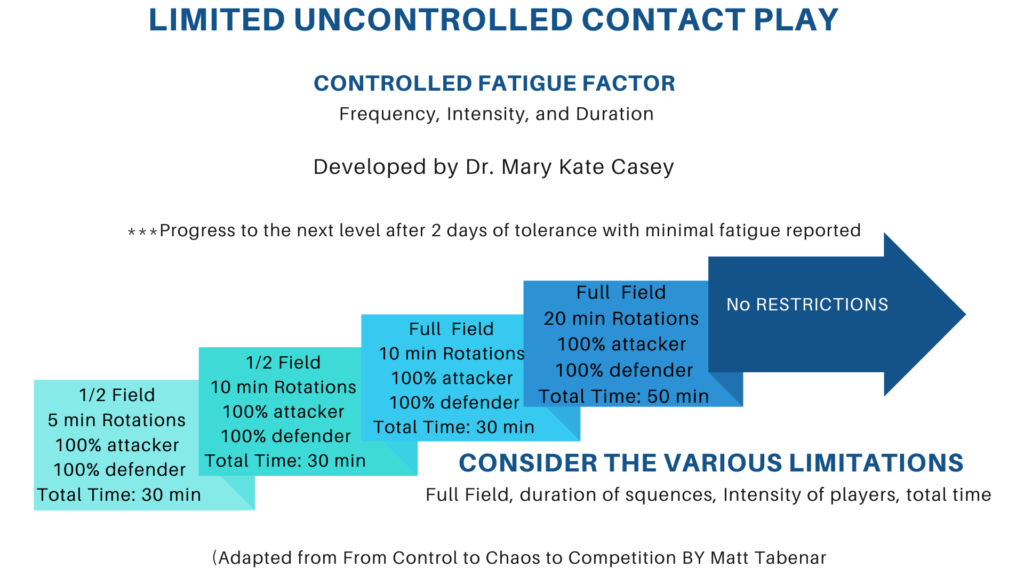 Download Our FREE Controlled Chaos Athlete Tracker Today
It's important to note that the athletes first full game should NOT be the first time they are cleared to play. We need to do a better job of communicating with players, parents and coaches on the dosage of return to full play restrictions and how that will in turn not only provide safety for the athlete but improved performance and safety in the game. Following this protocol, we aim to reduce the risk of re-injury, muscle strains and compensation injuries, all while giving the athlete more time to gain exposure in real game-like situations without pushing vulnerable and fatigued muscles over the limit.
In addition to following on Field Progression of the Controlled → Uncontrolled Chaos Continuum, it is imperative that these recovering athletes prioritize active recovery days and listen to their bodies when progressing into full Return to Performance protocol.
---
Resources:
Taberner M, Allen T, Cohen DD Progressing rehabilitation after injury: consider the 'control-chaos continuum'British Journal of Sports Medicine 2019;53:1132-1136.
https://ijspt.scholasticahq.com/article/25463-acl-return-to-sport-testing-it-s-time-to-step-up-our-game
---
Call today or schedule your individual phone consultation with a Doctor of Physical Therapy. You may also book for an appointment today.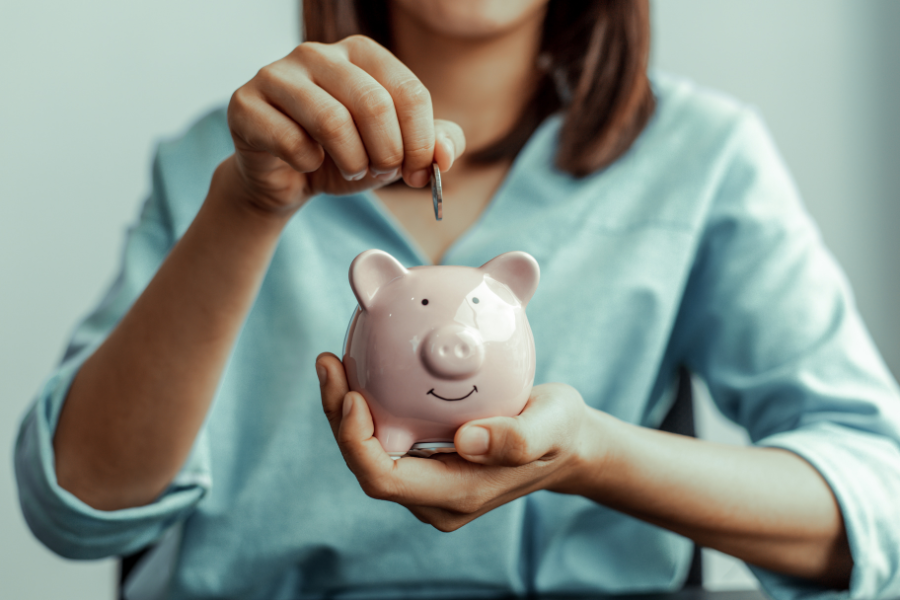 Searching for a good bargain? It's no secret that prices have been going up. Gas is expensive. Food is expensive. The housing market is crazy. If you're looking for ways to pinch some pennies or stretch your dollars, physical therapy might be just what you're looking for.
Physical Therapy Saves Cost
A study that looked at the claims data of 472,000 Medicare beneficiaries with back pain found that when PT was the first treatment, costs were 19% lower than when people got injections first and 75% lower than for people who were sent straight to surgery. The study also found that in the year following diagnosis, people who got PT first had costs 18% lower than those who got injections, and 54% lower than those in the surgery group.
Another example happened in 2006 when Virginia Mason Health Center in Seattle teamed up with Aetna and Starbucks. They sent workers with back pain to see both a physical therapist and physician for their first treatment. Use of MRI dropped by 1/3, people got better faster, missed less work and were more satisfied with their care. The cost savings was so great that Virgina Mason was losing money on treating back pain, so Aetna ended up paying them more for PT treatments because they were saving so much money.
Physical Therapy First Means Fewer Visits…
A paper published in Physical Therapy looked at outcomes when patients went to a PT first vs. seeing a physician first for back pain. It found that patients who went to their physician first needed 33 PT visits on average, while those who went to their PT first only needed 20. Seeing a PT first saves money, but it also saves time. Isn't it a good bargain? Check now for best physical therapy near me.
It Also Means Better Outcomes
A study of 150,000 insurance claims published in Health Services Research, found that those who saw a physical therapist at the first point of care had an 89 percent lower probability of receiving an opioid prescription, a 28 percent lower probability of having advanced imaging services, and a 15 percent lower probability of an emergency department visit.
High quality research consistently shows that taking advantage of direct access and getting to your physical therapist quickly leads to better outcomes in fewer visits with lower costs. We think that's a deal worth taking advantage of.
---
References
---
Welcome to our Clinic!
Our team of physical therapists at PREP Performance Center has close to 10 years of experience in the sports medicine physical therapy profession and over 8 years of experience running a successful private practice.
Specializing in treating the adolescent athlete, we not only provide therapy post-injury but seek to implement pre-sport participation movement screens and our 8-week Academy Training programs that have been shown to reduce overuse and non-contact injuries. Some of the statistics below support the need for Physical Therapy Intervention at the youth sports level.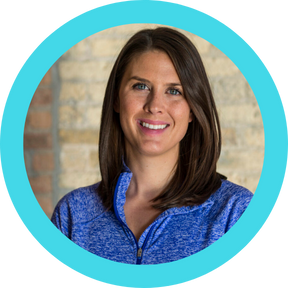 MARY CATHERINE CASEY, PT, DPT
Owner and Founder
Four-Time Division | National Champion Lacrosse Player
Movement Specialist
Dry Needling Specialist
Graston Technique Certified
Concussion Management Specialist
Titleist Performance Institute Certified
Mary Kate graduated with her Doctorate of Physical Therapy from Northwestern Feinberg School of Medicine and currently specializes in sports medicine rehabilitation. She is a former collegiate lacrosse player with four National Championships as a member of the Northwestern Women's Lacrosse team, current Head Lacrosse Coach at DePaul Prep in Chicago, and a member of the Wellness Team for the Women's Professional Lacrosse League (WPLL). In 2019, Northwestern University Physical Therapy Department selected Mary Kate as the Young Alumni of the Year for her innovative contributions to the Physical Therapy Profession.
Mary Kate sustained an ACL injury early in her freshman year of college, which sparked her interest in physical therapy. During a 6-9 months recovery process, Mary Kate followed a strict program that not only focused on strength, speed, agility, and quickness but also included flexibility, balance, mechanical and proprioceptive training during sport-specific activities. This unique training regimen helped her achieve athletic success throughout her collegiate career and into young adulthood. Her holistic approach to injury prevention, sports performance, and mental preparation were born out of this experience. Her experience both as a former collegiate athlete and an experienced physical therapist convinces her that something is missing for those athletes who train extended hours to excel in their sport, yet continuously need to fend off injuries.
This along with her extensive understanding of the increasing prevalence of ACL tears, she developed her own ARSI Movement System which she utilizes during her therapy and sports performance programming. Her methodology pre-and post-injury focuses on the assessment of muscle imbalances, recruitment of specific muscles, stabilization of muscle groups, and integration of proper mechanical loading during sport-specific activities. Mary Kate addresses individuals' weaknesses with a hands-on approach, employing manual therapy techniques, Graston Technique, myofascial release, neuromuscular control, and dynamic flexibility. Currently, PREP is using DorsaVi wearable technology to provide baseline movement assessments to young athletes to assist with injury risk assessment, limb symmetry, and return to play readiness.
Founder of PREP Performance Center, physical therapy, and sports performance facility, Mary Kate emphasizes the importance of creativity, innovation, education, community involvement, injury prevention, and integration with sports performance. Mary Kate's team is providing cutting-edge therapy and sports performance that helps athletes of all ages train like the pros and develop into well-rounded athletes despite early sports specialization.
Mary Kate utilized their skills as a former collegiate and high school athlete to develop the knowledge base and skills necessary to run a unique and growing clinic. Mary Kate has the mindset of an elite athlete and implements similar practices into her business to not only provide quality physical therapy but unmatched education and customer service. Mary Kate has to lead a team of 6 employees through the first 2.5 years of a new business and continues to pursue avenues that will keep physical therapy relevant as health care changes and the need for technology is integrated into healthcare. She is willing to take risks and is always looking for the X-Factor that will keep her and her team ahead of the game.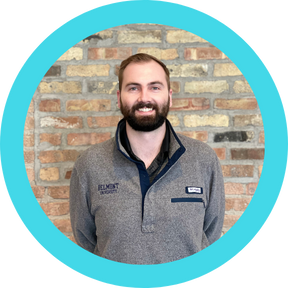 JACK DAVIS, PT, DPT
Division | Golfer
Movement Specialist
Selective Functional Movement Assessment Certified
Titleist Performance Institute Certified
Jack graduated from Belmont University in Nashville, TN with his Doctorate in Physical Therapy. Prior to that, he attended Saint Martin's University in Olympia, WA where he was a member of the varsity men's golf team and graduated with a BS in Biology. Jack has experience treating patients with a wide variety of orthopedic conditions but has a particular interest in sports physical therapy. He is passionate about providing individualized, quality care to help his patients achieve their full potential. In addition to his training in orthopedics, sports medicine, and post-operative care, he is trained in Selective Functional Movement Assessment (SFMA), blood flow restriction training, and is a Titleist Performance Institute (TPI) certified provider. Jack has a particular interest in golf rehabilitation and enjoys working with golfers of all levels to return to a pain-free game and reach their full potential. As a former college golfer, he can relate to the importance of maintaining a healthy body to stay at the top of your game.