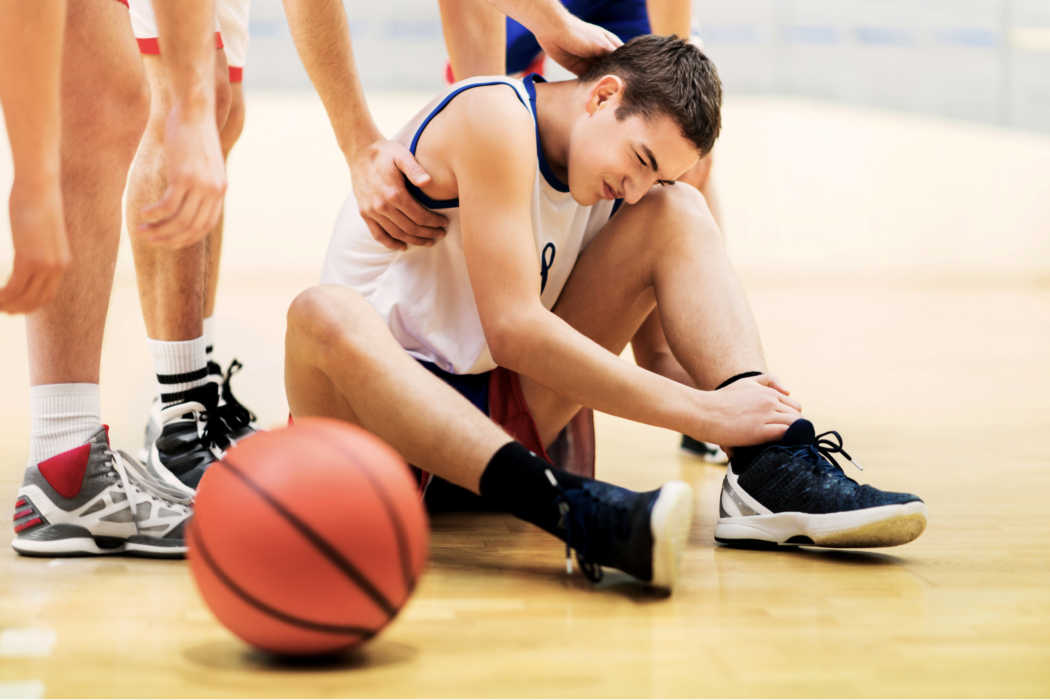 Want to discover how to prevent sports injuries so you can keep training, play for longer and perform better in big games?
Then keep reading!
Injuries in sport are very common – with some athletes more susceptible than others.
Whether it's due to muscles being overworked, an impact injury or poor technique, sports injuries impact nearly all athletes at some point.
In basketball, ankles and knees are often the body parts that get injured the most.
With lots of running, changes of direction and jumping, it's easy to see why ankles and knees struggle to cope.
Wrist, hands and fingers can also suffer due to repetitive strain or accidents when catching the ball.
In baseball, the shoulders, elbows and wrists usually pick up injuries.
In football, the knees are one of the most common areas for sports injuries, but due to the high impact contact, trauma injuries can appear almost anywhere.
Whilst sports injuries are common, there are things that can be done to prevent them happening…
How To Prevent Sports Injuries
Preventing injuries in sport means that you aren't missing practice, and you aren't stuck on the sideline during big games. Here are 5 proven ways to prevent sports injuries.
Warm Up Properly Before Playing Sport
We've all seen our favourite athletes warming up prior to a game, and you should be too.
Warming up before playing sports prepares your muscles, tendons, ligaments and joints for action and reduces the risk of injury.
Warm ups should also be tailored to your specific issues, and address weaknesses, tight muscles and vulnerable areas that have been a problem for you in the past.
Smart Programming And Enough Recovery
A lack of sleep, poor nutrition and inadequate recovery between practice, games and events is a recipe for disaster and can mean small niggling injuries become bigger problems over time which leave you injured for months, and in some cases, end careers.
Gradually increasing your training over time, and planning in enough rest is crucial to avoiding sports injury.
Use The Right Equipment
Protective equipment such as a helmet, or the right footwear can prevent injuries.
If you already have the right equipment for your sport – great!
But is it in a good condition, or is it worn out and needs replacing?
By making sure you have the right equipment, you are protecting your body from impact, and supporting it during repetitive movements.
Improve Your Technique
Poor technique can really flare up injuries in sport.
So, if you notice that your injuries happen after certain actions, such as an overhead shot during a tennis game, your technique may be to blame.
Getting coaching from an expert in your sport can help you spot the flaws in your technique which will not only improve your game – but also reduce your chances of injuries when playing sport.
Treat Sports Injuries As They Happen
Treating sports injuries when they first appear is the best way to stop them in the long term.
If you're struggling with muscle tightness, joint pain or discomfort when moving, visit a clinic with sports injury specialists and specialist sports performance programs like ours.
At PREP Performance Center, we are able to provide a variety of sport performance and injury prevention services which will not just get you out of pain, but performing at your best.
To speak to a member of our team and find out how we can help prevent, and recover faster from your sports injuries, arrange a Peak Performance Assessment.
In this assessment, you can discover how to prevent sports injuries, whilst improving your speed, power, strength and overall sports performance. But hurry, demand at our clinic is extremely high, so contact us today to arrange your Peak Performance Assessment or call us on (773) 609-1847.
---
Other Free Resources To Prevent and Treat Sports Injuries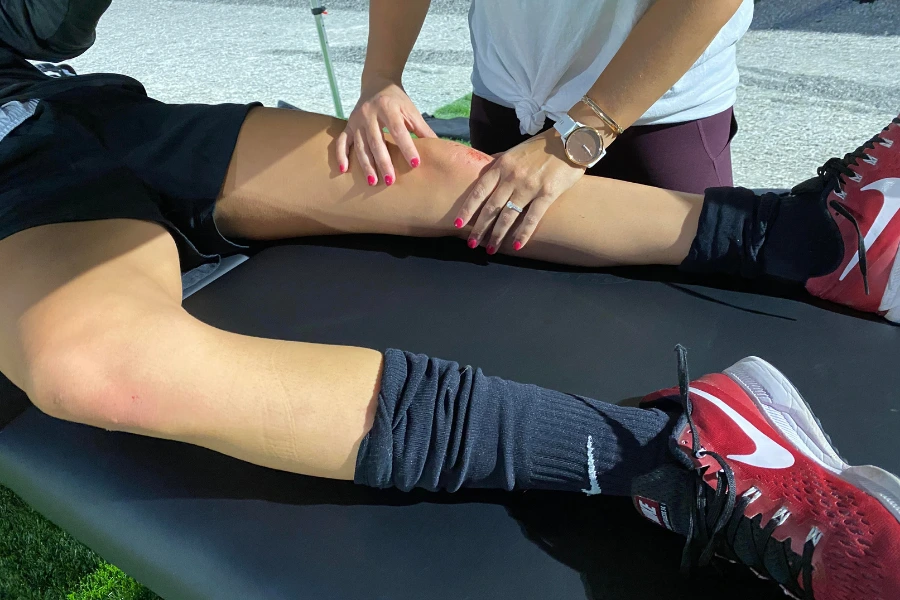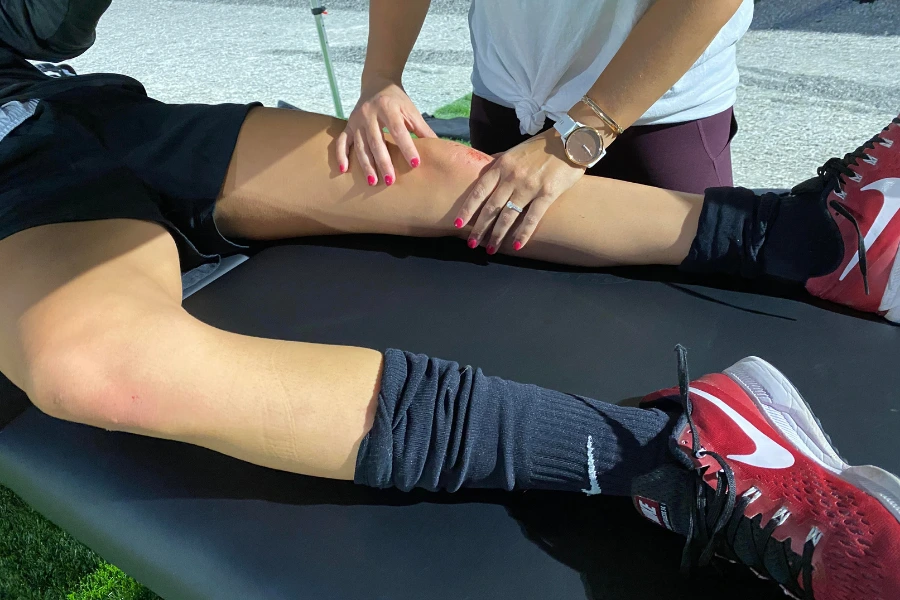 Sports Injuries – You don't have to be a pro to be an athlete. If you run, you're a runner. If you swim, you're a swimmer. Whether you train to compete or simply train to be strong, there is nothing more devastating than an injury. Fortunately, our physical therapy team understands your unique needs and can help you recover from your sports injury as soon as possible. Contact Prep Performance Center in Lincoln Square, Irving Park, Lakeview, Horner Park, Roscoe Village & Ravenswood Chicago, IL to find out how.
What is a sports injury?
A "Sports injury" is an all-encompassing term for an injury that happens during an athletic activity. You don't have to be a professional or even a competitive athlete to develop a sports injury. Lifting heavy weights, running in ill-fitting shoes for too long, swinging a racket or golf club for years on end, or rolling your ankle on a soccer field can all lead to injury. The key to proper recovery is receiving appropriate treatment as soon as possible. The type and duration of your treatment will vary with how severe the injury is, your current health, and whether surgical intervention is required.
Types of sports injuries
While the type, location, severity, and cause of sports injuries are as varied as the sports themselves, the seven most common injuries which also cited by Healthline are: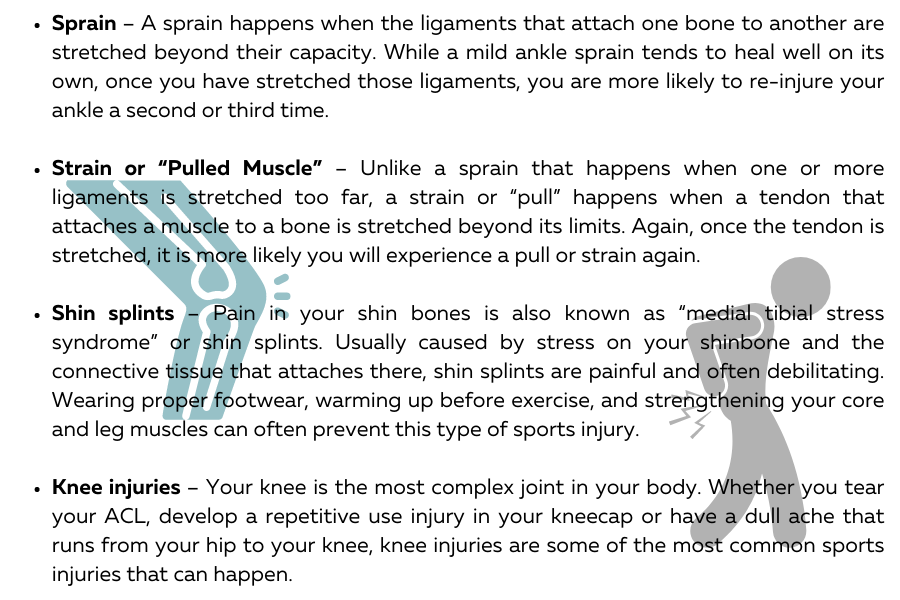 How physical therapy helps recovery after a sports injury
Think of a physical therapist as a movement specialist. These highly trained medical professionals can look at how you are moving your body and prescribe manual therapy, strengthening exercises, and stretches to help recover after or even prevent a sports injury. First, our physical therapist will take a detailed medical history including any prior surgeries, your current activity level, and any conditions that may have contributed to your injury. Next, they will do a thorough examination that may include X-rays, an MRI, or an ultrasound. Once our physical therapist has developed a treatment plan that is right for your injury, your physical fitness, your lifestyle, and your ability level, you will begin physical therapy.
Your treatment plan may include manual therapy to reduce scar tissue and increase range of motion, strengthening exercises to enhance not only the area that was injured but also the areas around your injury, stretches to improve mobility and balance, and pain management techniques. While physical therapy often begins and ends at PREP Performance Center in Chicago, IL, you will be given exercises, stretches, and exercises to do at home to enhance your recovery. Curious about whether or not physical therapy is right for your sports injury? Contact Prep Performance Center in Lincoln Square, Irving Park, Lakeview, Horner Park, Roscoe Village & Ravenswood Chicago, IL, today to speak with our Chicago physical therapists and start on the road to recovery as soon as possible.